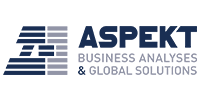 ASPEKT is Software Development and IT Consulting Company delivering dynamic workflow-based financial platform for financial sector, assuring process flexibility, scalability and integration. Our work environment includes professionals with extensive technology knowledge, vast experience in IT industry and real industry insight in financial business processes, regulative and trends. ASPEKT is a company focused on innovation and flexibility.
Our product Aspekt Product Suite is providing efficiency and control over all workflow processes. The software integrates, streamlines and optimizes business processes, creating one flawless structure of harmonized activities. Aspekt's mission is to drive transformation and achieve operational excellence of our clients through continuous innovation, operational improvement, scaling up and gaining long-term economic benefits.
We strive to become a global leader in providing financial software solution for the financial industry ensuring high quality and value-add features to clients' business operations.
Core Banking System

Core Banking System Design and Implementation
Core Banking System Maintenance

Fraud Monitoring

Applications

e-Banking Applications
m-Banking Applications
Other Applications

Merchant Platform, Tablet Platform for Field Activities

Other

Application Processing System
Loan Lending
CRM
Credit Scoring
AML, Treasury Operations
Card Operations
Cash Management
HR & Payroll
Fund Management
Budget Tracking
Fixed Assets
Finance & Accounting
Banking

Other industries

Financial Services and Leasing Companies
| Name and Surname | Title | E-mail | Phone number |
| --- | --- | --- | --- |
| Natasa Cavkaroska | Business Development Specialist | natasa.cavkaroska@aspekt.com.mk | +389 75 300 409 |